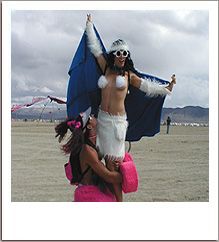 Without fear of being labeled "slut" or "weirdo" or "tramp," people dress up exactly how they always wanted to. Want to be a Viking? Great. Want to ooze sex from every pore and leave a trail of open-mouthed drooling men in your wake? Why the fuck not?

People on the Playa construct sexy, surreal, fantastic costumes to help define their Playa identity. Out there, he is not a CPA who's short sleeve knit shirts push the envelope of the corporate dress policy. Out there, he is an intergalactic warlord whose battle gear repels powerful phasers and playa dust.

Out there, she doesn't have to worry about her skirt being too short for "professional" standards. Out there, she wears her sexiness on the outside. Lace, fur, sparkle, and shine all swirl together to scream "Dare to touch me! I am a goddess."

Because when there's nobody to tell you otherwise, it's easier to remember that you ARE divine. To me, cruising among the playa denizens in full fantasy gear is like mingling with the gods atop Olympus.