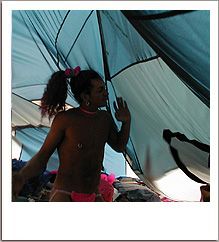 After hanging out in the tent for a few minutes, listening to the whipping sound of rain tarp being thrashed about, everything was clear to me.

I'm in the middle of a surreal wind storm, in the middle of a surreal landscape, in the middle of a convention for surrealists. No, it's not at all what I was expecting, but it's still pretty darn amazing. Embrace it.

I cracked a whip-it and ran out of my tent to enjoy the madness. The whipping sand was just as before, but after I let go of my frustration, I noticed that the wind wasn't attacking…it was caressing.