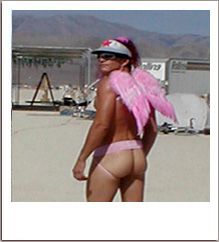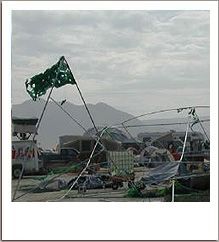 I was in the middle of a rehearsal for the TribaLabia Tantric dance performance I was supposed to be in that evening. The wind just kept getting stronger and stronger. The air was thick with flying dust. Every breath felt like a throat-full of mud.
On the dance platform, sand grits pelted my calves and butt cheeks. (The fur jock strap didn't provide much cover.)

Practice was cancelled and we peddled back to our camp as quick as possible. My hair, chest, back, and legs were coated by a powdery dust film.

But our camp wasn't there. Well, our tents were. The kitchen area was there. But the Xaran Jungle had been ripped inside out. Tarps flapped violently in the wind. Metal pipes were bent like twisty ties. Plastic jungle foliage whipped across the playa.