Postscript Playa Hope # 2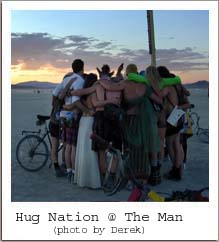 I don't have a paintbrush, but I am an artist.
Unfortunately most of my digital art doesn't translate well to the playa.
But I hosted HugNation at the base of the Man on Wednesday.
Hug Nation is an event I host once a week from in front of my computer. People all over the world get in front of their webcams and give themselves a squeeze. If you aren't in front of your computer, no biggie, give a squeeze at the set time, anyway. Know that people all over the world are "hugging" you mentally.
So at the normal weekly time, We had a big group hug on the Playa. We joined arms and focused on all the people, world-wide, who were spiritually a part of the embrace.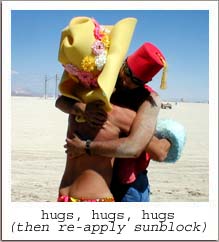 It is a very Burning Man-type event…but it lives in the "real" world…outside of the protective "walls" of Black Rock City.
This gives me hope!
Every Wednesday we take a moment to remember the spirit of the Playa.
You are invited.
Wherever you are at 6pm (Pacific), give yourself a squeeze. And you think of all the people, world-wide, who would rather hug you than hurt you. We are many. And our hearts amplify one another's love. On the Playa the HugNation vibe is so strong it makes your head buzz. But Hug Nation the rest of the year is a way to revisit that headspace. Once a week you can allow yourself a magic moment of Playa-like hope.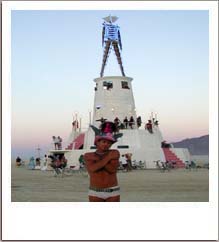 We are connected. There is love in the world. There is hope for a better world.
We are all artists.
Believe in Ultimate Possibilities.
((HUG))